I have this card that I pulled from a box a couple years ago. It needs a new home.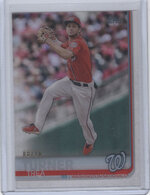 2019 Topps #176 CLEAR ACETATE
by
Dashcol's Cards
, on Flickr
I prefer trading, but if looking to buy feel free to make an offer.
Looking to trade for the following:
trade value is hard to tell on cards like this, but we can work together on that.
1) 2021 Heritage needs from the page below.
I have decided to take on the massive undertaking of building a Master Set of 2021 Heritage. I don't want to just have a Master Set, I want to have the most complete set of 2021 Heritage! I have no idea why I decided to do it with this set, but I have made up my mind, so I will now spen the next...

thebenchtrading.com
2) Graded HOF RCs (PSA, SGC, BGS, BVG only)
3) 2021 rookies of Alex Kirillioff, Jazz Chisholm, Ke'Bryan Hayes
4) 2018 Shohei Ohtani RCs that I do not already have
5) Vintage set needs from this list below:
PLEASE NO ONE POST IN THIS THREAD!!!! USING AS TRACKING FOR WHAT I NEED AND AS A SHORTCUT FOR THOSE TO REFERENCE. I will not respond to those who post in this thread, as I will only be checking it when I have an update to a set need. If you happen to have something I need, please just PM me and...

thebenchtrading.com
6) 2020 rookies of Luis Robert, Randy Arozarena (Rays uniform only), Bo Bichette
7) 2019 rookies of Pete Alonso, Fernando Tatis Jr, Vladimir Guerrero Jr
8) 2018 rookies of Ronald Acuna Jr, Juan Soto, Rafael Devers
9) 1992 Bowman Mariano Rivera
10) 1993 Derek Jeter
I can also look through lists, I don't know that I need something if I don't get a chance to see it!