This one was for an upgrade for the set, the one I got 15+ years ago was signed in red. These ones look so much better.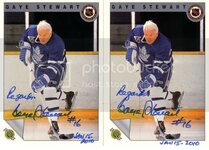 Gaye Stewart
805 - 1237 North Shore Blvd E.
Burlington, ON
L7S 2H8 Canada
Out 2010.01.06 Back 2010.01.20
2/2 + 2 index cards
And another Senator.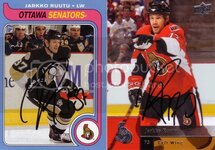 Jarkko Ruutu
Ottawa Senators
1000 Palladium Drive
Ottawa, ON
K2V 1A5 Canada
Out 2010.01.04 Back 2010.01.20
2/2