On Monday I got another former King for my collection, Rick Hampton 12 days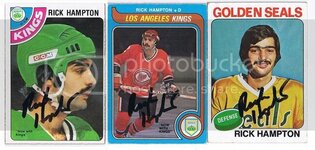 The really funny thing about these cards is that the one on the left is a 1978-79 card with the "Now with Kings" note on the front, but the one in the middle is a 1979-80 with the same note and a picture that is older than the one on the 78-79. Great product control.
Darrell, the Golden Seals card may be of interest to you since they are technically the Stars now (They moved to Cleveland as the Barons and eventually merged with the North Stars). LMK if you would like to make a trade on it.
Also received yesterday tennis HOFer Ivan Lendl 3/3 in 9 days on a CIC
Last edited: