U E F A Champions League Showcase​
Master box received - 2 mini boxes - 6 packs per mini - 6 cards per pack
1 Auto per mini box
I received these:
57 base cards -- 28.5% of the 200 card base set - no dupes!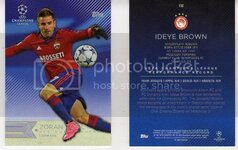 UEFA Champions League is an excellent set that reminds me of Stadium Club - full color action shots, no border, the player's picture is high gloss on a matte background. The cards are printed on very stiff stock and are going to be difficult to keep in pristine condition (should one want to get one graded) - with a dark blue back any 'ding' will show.
This should be an excellent set for the futbol enthusiast. Roberto, Messi, and all of the European greats are in the set. One should need about 4 master boxes to complete the base set.
Inserts
Champions Pedigree // Decorated and Dignified
Champions Pedigree - 5x
Decorated and Dignified - 6x

Gold Parallel #ed to 50
Best of the Best #ed to 25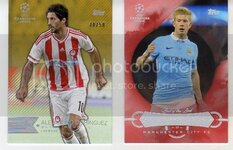 Gold - Alejandro Dominguez
BoB - Kevin deBruyne
Autos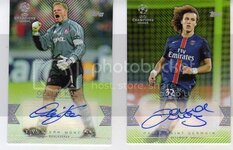 Oliver Kahn
David Luiz #ed to 150
UEFA Champions League Showcase should be and interesting set to build and also great for the player collector with parallels, various inserts, printing plates, and autos to collect of your favorite 'futboller'....
Overall grade
A+
-- good number of base cards - well done!
Go buy several master boxes to see how close you come to a set!
Duane