So I pulled the Hamels "Own the Name" 1 of 1 patch out of a 2015 Topps Update Jumbo pack over the weekend. My little brother was with me, and I guess I gave him the itch. LOL. He went back to the LCS today and bought 2 packs of Topps Archives and a jumbo pack of 2015 Topps Series 2. As he told it there was absolutely nothing special in the Archives packs. In the jumbo pack of Series 2 he pulled this: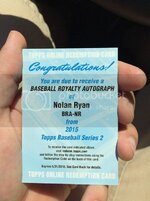 From the research I have done all of the Royalty autographs are numbered to 10 and signed in gold!!!! I just hope he doesn't get screwed by Topps (I see too many horror stories on the Topps Facebook page. I was so happy he finally got his first great pull. The problem now becomes we have a jealous baby brother.
We'll definitely be going back to the shop this weekend.