Good evening my friends!
Welcome to the Christmas Eve contest! This year you are playing for a Carl Erskine custom 3x5 with an on card signature. I sent 4 of these for Carl to keep, which he generously kept only 1, and signed and returned the rest.
So, the only thing better than 1 Carl Erskine card is TWO Carl Erskine cards!!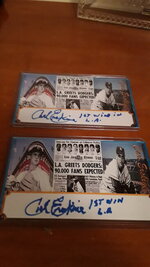 I am giving 2 of these away, so pick a number between 1 and 75, one guess per member per day! There are 2 winning numbers, so you have twice the chances of winning a card!
Compliments of the Season!
Kevin
Last edited: