Hi Everyone -
I have these damaged GU and Autos that have accumulated over the last few years.
I've listed them below with details of their problems - along with pictures.
For the entire 16 card lot, I'm looking for $5.00 via Cash, Check, or MO. Or $5.50 via Paypal.
I just want them gone and I hope that someone can use them (maybe for making custom cards) or someone who doesn't mind damaged cards.
LMK. Thanks!!
Scobes
Baseball Autos (6)
1987 Topps 479 Bob Sebra - TTM Autograph - Montreal Expos - Card Creased and Bent at bottom
1988 Donruss 458 Bob Sebra - TTM Autograph - Montreal Expos - Card Creased and Bent at bottom
1994 Classic 192 Paul Bako - TTM Autograph - Cincinnati Reds - Faded Signature
1996 Donruss 548 Danny Tartabull - TTM Autograph - Oakland Athletics - Card Creased and Bent at bottom
2011 Playoff Contenders Draft Ticket Autographs #DT32 Aaron Westlake AU - Detroit Tigers - 2 Dinged Corners & Bow-curved
2011 Playoff Contenders Draft Ticket Autographs #DT56 Forrest Snow AU - Seattle Mariners - 2 Dinged Corners & Bow-curved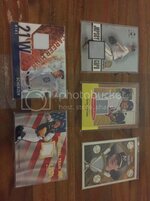 Baseball Game Used (5)
2001 UD Gold Glove Game Jersey GM Greg Maddux GU - Atlanta Braves - Card Creased and Bent at bottom
2004 Fleer Tradition Diamond Tributes Game Jersey BZ Barry Zito GU - Oakland Athletics - Two Large Creases on either side of swatch window
2008 UD USA National Team Jerseys PP Petey Paramore GU - Team USA - Large Crease around swatch window
2011 Topps Heritage Clubhouse Collection Relics JS Johan Santana GU - New York Mets - Two small creases on either side of swatch window & large crease on back
2015 Topps Career High Relics MS Max Scherzer GU - Detroit Tigers - Large Crease around swatch window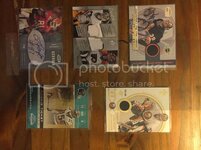 Football Autographs (2)
2006 SAGE Hit Autographs Silver 31 Leonard Pope AU - Georgia - One corner heavily dinged
2007 Playoff Contenders 171 John Broussard RC AU - Jacksonville Jaguars - One corner heavily dinged and separating
Hockey Game Used (3)
2003-04 Pacific Invincible Jerseys #19 Rick DiPietro MEM SER 1400 - New York Islanders - Two Large Creases on either side of swatch window
2003-04 Private Stock Reserve #179 Rick DiPietro JSY SER 900 - New York Islanders - Several Small Creases around swatch window
2008-09 SP Game Used Authentic Fabrics Duos #AF2FN Marc-Andre Fleury/Antero Niittymaki MEM SER 100 - Pittsburgh Penguins/Philadelphia Flyers - Several Small Creases around swatch window