Hey Everyone -
I have this lot of stickers from the 1980s and 1990s up for sale. Mostly commons but includes minor stars. A number count is included below.
For the lot, I am looking for $8.00 dlvd via Cash, Check, or MO. Or $8.55 via Paypal. Cards will be shipped in a Small Flat Rate Priority Mail Box ($6.80).
Please ask any questions about the lot. Let me know if youre interested.
Thanks!
Scobes
1983 Topps Stickers (5)
1984 Fleer Star Stickers (1)
1984 Topps Stickers (15)
1985 Topps Stickers (11)
1987 Topps Stickers (60)
1988 Panini Stickers (46)
1988 Topps Stickers (56)
1989 Panini Stickers (105)
1989 Topps Stickers (66)
1990 Panini Stickers (5)
1992 Panini Stickers (15)
P.S. Don't forget that the 1988 and 1989 Topps Stickers have the Stars on the Sticker Backs. Lot also includes some foil stickers.
P.P.S. I'll also try to fill out the box with some random cards too!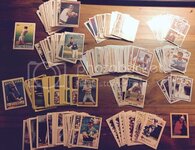 Last edited: