Hey friends,
In an effort to get some more dialogue going, I am interested to see what your favorite item(s) in your collection are? It would be fun to find out what cool things everyone has that are special, and most interestingly, WHY are these particular items special to you? What is the story behind the item? What significance does the player have to you?
My first items today are from my two childhood favorite ballplayers, Ryno and Awesome Dawson! I had both of these cards as a child, and recently acquired both of these in much nicer shape than my childhood collecting allowed!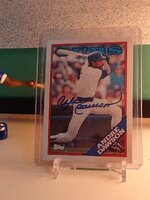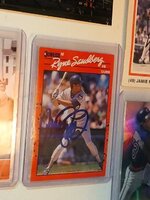 These two are special because I remember so much about them growing up, everything that was written portrayed them very heroically on the field and in the community....and they both lived up to every bit of the hype!!
Let's get this rolling! You can post photos too if you want!
Blessings,
Kevin
Last edited: