Joined

Sep 24, 2006
Messages

4,717
Reaction score

34
Points

48
Location
Hello,
Need to get rid of some of the piles on my desk. These are all of the hits from the case that I busted.
I have about 500 extra of 2021 Stadium Club base, I could be talked into selling them as a lot.
Please feel free to combine these cards with others from my main tradelist.
Here's the link (I'm constantly adding to it)~
Hello All, I don't know about the rest of you but I'm ready to kick 2021 to the curb. Hubby isn't feeling well, and I'm stuck inside for a few days so let's have a sale. My card boxes are overflowing. I do have a small set wantlist plus I'm always interested in George Brett cards that I...

thebenchtrading.com
Sorry, I only ship to US addresses.
Shipping-
No PWE's on these
$3.50 for any amount of cards
Purchase $25 or more and shipping is on me.
#'s 1-12 $5 each
ASC$5A
by
Melissa Beck
, on Flickr
1.) Aaron Nola Virtual Reality Gold/50---SOLD
2.) Ke'Bryan Hayes Crystal Ball Wave RC Ref---SOLD
3.) Brent Rooker RC Auto---SOLD
4.) Nick Maton RC Auto
5.) Ryan Mountcastle RC Ref---SOLD
6.) Nick Senzel Gold/50---SOLD
7/) Miguel Rojas Gold/50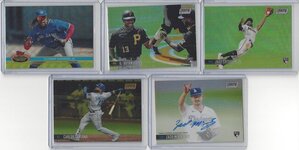 ASC$5B
by
Melissa Beck
, on Flickr
8.) Vlad Guerrero Jr. '91 Design Wave---SOLD
9.) Ke'Bryan Hayes RC Ref---SOLD
10.) Jazz Chisholm RC Ref---SOLD
11.) Carlos Santana Gold/50---SOLD
12.) Zach McKinstry RC Auto
#'s 13-21 $10 each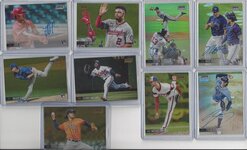 ASC$10A
by
Melissa Beck
, on Flickr
13.) Jose Garcia RC Auto---SOLD
14.) Luis Garcia Gold RC/50---SOLD
15.) Trevor Rodgers RC Auto
16.) Nate Pearson RC Auto
17.) Brady Singer Gold RC/50---SOLD
18.) Cedric Mullins Gold/50---SOLD
19.) Michael Kopech Gold/50---SOLD
20.) Tyler Glasnow Auto
21.) Peter Solomon Gold RC/50---SOLD
#'s 22-26 $15 each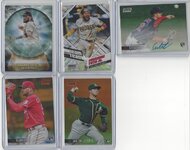 ASC$15A
by
Melissa Beck
, on Flickr
22.) Fernando Tatis Jr. Crystal Ball Wave Ref---SOLD
23.) Fernando Tatis Jr. Beam Team Wave Ref---SOLD
24.) Garrett Whitlock RC Auto
25.) Vladimir Gutierrez RC Orange/25
26.) Daulton Jefferies RC Orange/25
#'s 27-32 $20 each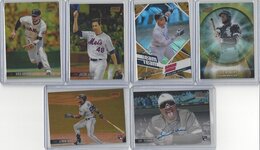 ASC$20A
by
Melissa Beck
, on Flickr
27.) Kris Bryant Gold/50---SOLD
28.) Jacob DeGrom Gold/50---SOLD
29.) Aaron Judge Beam Team Gold/50---SOLD
30.) Luis Robert Crystal Ball Gold/50
31.) Lewin Diaz RC Orange/25
32.) Yermin Mercedes RC Auto Gold/50
#'s 33-35 AS PRICED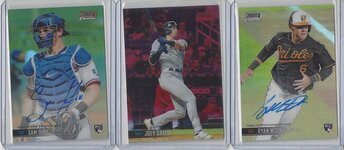 ASC$25A+
by
Melissa Beck
, on Flickr
33.) Sam Huff RC Auto Gold/50 $25
34.) Joey Gallo Red/5 $30
35.) Ryan Mountcastle RC Auto $50
Last edited: