Today's set hit puts my percentage at a pretty awesome 23.2323232323repeating%
Also it came in my sase with my old address x2. So I sent this one well over a year ago...
This was sent before I started tracking my ttms so have no clue about address or date sent. Postmarked from Philadelphia, PA...
Bob Gibson!!!
...ok, not that Bob Gibson, but a pitcher and a set hit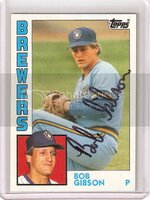 Thanks for viewing and Happy Collecting!
heading out for dinner to celebrate 2nd anniversary with wife. Hope we get a seat with a TV view
...Colts vs. Fatboycards' Bengals tonight