Joined

Jun 25, 2008
Messages

21,295
Location
Went to the BayBears vs. Lookouts game last night. I got there as it was starting so I didn't get to graph before which slowed me down a little bit. I also didn't know that in a minor league double header they only play 7 innings and not a full 9. I think I did decent even though I had to do most of the work after. I got the BayBears as they were leaving the field and got Danny Darwin as he was getting on the bus after the game. He seemed like he was in a bad mood, but I would be too after losing both games, haha. Not a bad night though...
Bryan Shaw - 2/2 (1 for mort)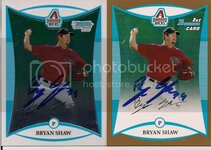 Turner Ward - 8/8 (3 for McGillicutty) - still working on the others
Danny Darwin - 4/4 (2 for thehalk)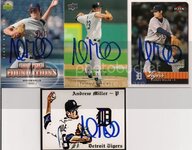 Wade Vadakin - 1/1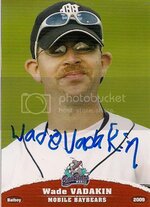 Wade is one of the BayBears bayboys...he has a really bad case of diabetes and something else that I'm not sure about. It's sad watching him walk around the field like he does, but he's a clown at the same time so I know he is out there having a good time. He was loving all the auto requests last night so I figured I would get him to sign my set card for me.