Joined

Oct 8, 2007
Messages

5,416
Reaction score

146
Points

63
Location
HI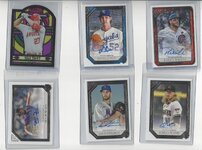 As always Gallery has very nice looking cards. Pulled the Patrick Wisdom auto red 1/25 from the second blaster and the odds were 1:576. The Casey Mize 53 3/10 Parallel Orange Pattern 1:840 and the Mike Trout Gallery of Heroes 8 1:337.
So a quick review:
Autos: The weird part being that 4 of the 5 autos were second round spot picks
Jordan Weeks D'Backs David Peterson Mets Ben Bowden Rockies
Daniel Lynch Blue 43/50 and the Wisdom
Inserts
2021 Topps Gallery Blue Pattern #175 Juan Soto
11/50
Casey Mize 53 3/10 Parallel Orange Pattern
2021 Topps Gallery Green Pattern #112 Jacob deGrom
18/99
Click on the watch on youtube to be able to chat.
Thanks for joining my break.
Bob
Breaking 2021 Topps Gallery Baseball 2 Walmart Mega and 2 Blasters = 4 Autos and 4 Exclusive Printer Proof Parallels per box.
Billed as "The Art of Collecting," 2021 Topps Gallery Baseball offers artistic renderings of top MLB stars.
While the artwork is featured, the set does appear to include more traditional photos than previous editions.
The premium format this year is officially known as a Mega Box, which includes two autographs.
Break consists of :
2 Walmart Mega Boxes of 2021 Topps Gallery 20 packs of 5 cards x 2 = 200 Cards $87 each (79.99*8%) = $174
2 Walmart Blaster Boxes of 2021 Topps Gallery 7 Packs of 4 cards x 2 = 56 cards $25 each (19.99*8%) = $50
$224
Any Questions? Please Ask1
Thanks Bob
1 Mariners Brewers LeMole Paid
2 WhiteSox Diamondbacks Tom N. Paid
3 Tigers Astros bostonsox77
4. BRAVES. Rangers crazy derek Paid
5. Padres. Guardians Josh Paid​
6. Phillies Athletics josh Paid
7. Angel's Cubs LarryG Paid
14. Red Sox Marlins LarryG Paid
8. Cardinals Royals Mgm37
9. Yankees Pirates darkman Paid
10. Reds. Nationals. Darkman Paid
11. Orioles. Rockies Oriolesfan1 Paid
12 Mets Twins. Jerryjtj Paid
13 Dodgers Giants gwynn_fan paid
15. Ray's- Blue Jays David K definately paid
Left
Diamondbacks
Brewers
Please also join the Elite Chronicle Break
Last edited: