Well, kind of. I attended CJ Wilson's bowling event for children's charity(at Splitsville Lanes) in Arlington. A great cause and only $15(buckets of beer were $10, which wasn't bad either). Only Wilson, Elvis and Jon Daniels attended the event; but I still was able to snag a couple of goodies.
I got to talk to a couple of guys that freelance for MLB network and were in town filming the Rangers for an upcoming This Week in Baseball segment. They also film The Club, which follows the White Sox and mentioned that Ozzie Guillen is indeed as outrageous and crazy as he sounds.(but a pretty cool guy)
CJ Wilson 2/2
Elvis Andrus 1/1 and 1 2010 All-Star Ball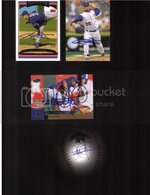 thanks for reading!
CW