36 packs - 7 cards per pack
12 digital pack codes per box
I received these:
Complete set 200 cards plus 21 duplicates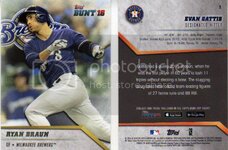 Bunt 16 is an excellent set for the younger collectors and for the digital collectors. In one box, one should receive a complete base set and the 12 digital code cards to be unveiled on the Topps site. Boxes in O'do are going for about $40.
The front of the card is glossy and the reverse is matte. The front is a bit busy for my taste - huge team logo seems to distract from the player photo.
Inserts
Unique Unis and Future of the Franchise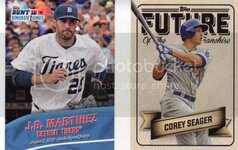 3 Future
5 Unique Unis
Light Force // Bunt 16 Program
Lightforce - 4x
Bunt 16 Program - 6x
Digital Code cards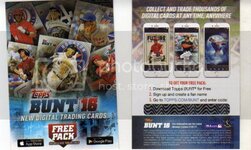 12 cards -- as promised
Gold Parallel
Carlos Gomez #ed to 50
**********************
Great starter issue!!
I will give the 200 base set to the person who can guess the total card numbers of the duplicates that I received.... the closest to that number with out going over. Post guesses here on this thread... I'll eat the postage.
All guesses must be posted by 9/10/16 midnight EDT.
i.e. -- 21 cards - 1+4+8+89+112 etc.... +?
Overall grade
A
Go buy a box or 6 and send the gold parallel Rays to me!
Duane