Very excited to get this back for my little nephew..Unfortunately I believe this guy will be terrorizing the Rangers for years...As an 18 year old(yes 18) he put up the following slash line in the Midwest and Cal leagues combined
.341/.428/.918 with 10 bombs 58 rbi and 56 sbs....
Mike Trout c/o Rancho Cucamonga 1/1 SS OMLB
Another TTM Return
Frank Francisco 1/1
And IP last night(for Javy, mr.js 36)
Jeff Granger 1/1
I got to talk to Granger probably more than I ever had during my nephew's baseball game. Granger is hilarious and we started talking about the Puerto Rico Winter League. I had no idea he played 3 years for the very team that Javier goes and sees(Indios de Mayaguez). He had some great stories about that league but one I will share was funny and also relevant today.
I believe this was in 96 and Granger was playing on a winter league team with Bengie Molina, who was only 22 or so at the time. Granger gets to the park and is going to throw a bullpen session and Bengie comes up and says, hey my little brother over there is going to catch you, okay. He's really good, don't worry about his size. Granger looks over and sees this little 14 yr old kid and says okay, whatever. He starts throwing his sideline and this kid is just catching and perfectly framing everything. So Granger decides to start going full throttle. Sure enough, this kid is on everything, in perfect position and catching breaking pitches, fastballs, like nothing. Well, that 14 yr old kid just won another gold glove today(his third). Yadier Molina is pretty good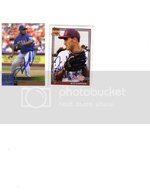 Thanks for reading!!Anyone that ever has any Grangers you want sign, LMK..
CW