Not too bad of maildays--- Saturday and today.
Saturday brought
1/1 Ian Kinsler SS ROMLB--> Sent it March 11th, this year
Today brought
1/1 Matt Diaz w/ 23 and "Phil 1:6" inscription
1/1 Ryan Church- Sent it c/o ST in March
2 Braves in one day. Both on 2008 A&G cards
.
Kinsler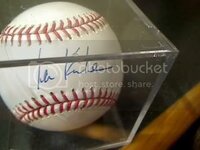 Church
Diaz

Thanks for looking
.
-Utleyfan
Last edited: