Hey Squad, I present another Breaking on a budget break - Pick one get one Draft style.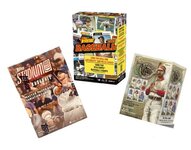 Replay
Box Configuration:
2022 Topps Allen & Ginter Blaster
2022 Topps Stadium Club Blaster
2023 Topps Heritage Blaster
Mystery pack
Break will work as such. There are
15
spots
and the price is
$10 per spot
.
Each spot gets you ONE TEAM THAT YOU PICK AND ONE RANDOM TEAM draft style from the list of unpicked teams and all of the cards of the players from those teams. We will randomize the list of participants to determine order of second team picks.
Teams can be traded if you wish. Shipping is included in the price of the break
.
After you sign up I will add this to the Trade Manager along with my PayPal address.
**Note this break will be done using TikTok as I am unable to live steam on YouTube at this time. There will be a link provided.
1 Jeff_FNG - Tigers - marlins
2 Bdink25 - Rays - Rockies
3 Bdink25 - Mariners - Brewers
4 Kpit1978 - Angels - white sox
5 Kpit1978 - Yankees - As
6 Northicehero99 - Pirates - Giants
7 LarryG - Astros - Redsox
8 BarJack34 - Mets - Dodgers
9 Rtsjr - Reds - Orioles
10 Rtsjr - Nationals - Phillies
11 Molitor04x - Braves - Cubs
12 LarryG - Cardinals - Bluejays
13 Mechjo16 - Royals - Twins
14 Barjack34 - Diamondbacks - Rangers
15 Dad3309 - Guardians - Padres
Last edited: