Hi All. I recently had a case of 07 Exquisite rookies busted and pulled a couple very nice cards:
Ryan Braun Gold Quad-Jersey Auto RC /99
Tim Lincecum Rookie Heroes Auto /25
While these were the nicest cards out of the case, they were also the most damaged straight out of a sealed case. It was recommended to me to inquire with Upper deck about the damage, so I did.
Here's my email to Upper Deck:
Hi,

Normally I am not too picky about slight pack wear on cards. Unfortunately I ran into pulling damaged product straight out of the pack on the two best hits in my case of cards. I am interested in having these two cards repaired.

07 Exquisite Rookies Rookie Heroes Signature Tim Lincecum 02/25 (corner)
07 Exquisite Rookies Rookie Quad Jersey Auto Gold Ryan Braun 09/99 (inside of left-most jersey)

This case opening was filmed and can be found on youtube:
http://www.youtube.com/watch#playnext=1&playnext_from=TL&videos=6YnUUe2qBTo&v=z1sU_vJQY3M - fast forward to 3:20 and 4:17 of the break to see the cards in question.

I have been collecting and opening cards my whole life and this is the first case where I felt it was necessary to contact Upper Deck. My first concern is that I receive the same cards in replacement, and NOT a different, yet similar card.

Thanks,
-Chad Braaten
This is UD's Reply:
Hello Chad,

Due to the age of the product we would not have those same exact cards for replacement. However, we would be able to send product out to you that would compensate for damage. Both those cards even with damage are still highly valuable. I wouldn't want you to waste money on mailing them in, so please give me an estimate of how much value was lost with damage. Also include 5 players/teams you collect so we can better assist you. Talk to you soon.

[Contact Info Here]
Here's the photos of the cards in question. I know that the Lincecum and Braun (if they were in mint condition) would sell for about $100 and $80, respectively.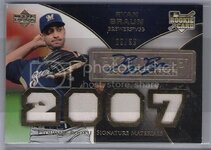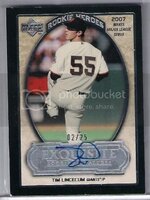 What do you the value-drop is based on the damage? Have any of you worked with UD in similar situations?
Thanks for the help!
-Chad
Last edited: