Might as well make one thread here
Griffins have had 2 signings from the bench after the game that I've gone to so far
One was Robbie Russo, Brian Lashoff and Tyler Bertuzzi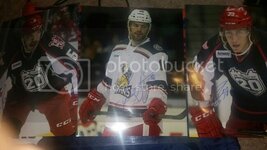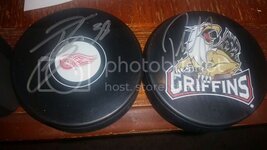 This past Saturday was Teemu Pulkinnen bobblehead night with Anthony Mantha, Nathan Paetsch and
Nick Jensen signing
For those that have checked these forum's out for years now know of the annual Sled Wings vs Griffins charity event they do every year where I get a ton signed, went light this year now that we have a 6 month old to bring with us.
11x14 team pic, wife got this signed by 22 players and head coach
added Tomas Nosek, Eric Tangradi and Dan Cleary
Mr. I hate signing autographs Dan Cleary...ignored my dad hoping he would keep going when saw he had a Stanley Cup puck, started to grab silver sharpie then signed with black. Wasn't gonna say a word as was first time thru line and I wanted to double dip back thru the line so could get him on jersey and a regular puck also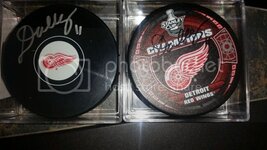 Cleary and Ouellet for my set then had this old Todd Nelson give away card since I was a kid I just found recently.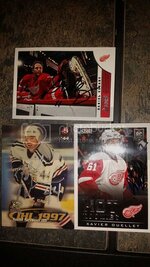 Bertuzzi, Coreau, Sproul Nosek and Lashoff 8x10, might attempt this photo again and try to get everyone to sign underneath themself, my dad took this thru the line so not gonna complain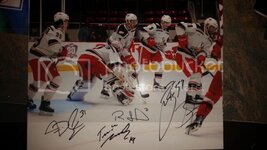 Jared Coreau and Xavier Ouellet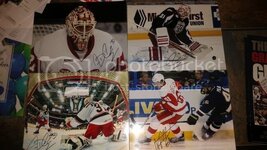 Tomas Nosek, Nathan Paetsch, Joel Rechlitz, Nick Jensen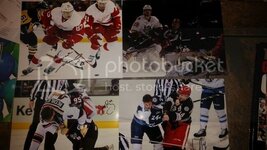 Martin Frk, Robbie Russo, Brian Lashoff and Tyler Bertuzzi
Ryan Sproul (took pic myself a season or 2 ago), Eric Tangradi