Hi, just thought I'd wait a few days before my next thread
Anyways....
Saturday was a pretty good day. That being said, I shall move on to the success...
1/1 Andruw Jones- Didn't think this one was gonna come back to me. Signed an 08 A&G of course and I thought I missed the 'gravy train.' BTW, this was sent early, early July.
2/1 Bobby Doerr IC & he sent back his own HOF signed plaque postcard
Today...
Hank Greenberg 2004 UD SP Legendary Cuts Bat GU relic card
Sparky Anderson... sent to him an IC but he sent back two small index-card sized (almost) notes stating he is no longer signing because of the overwhelming requests he is received. He signed them both, 'Sparky' at the end. Not sure why he sent two though?
I saw people getting ROMLB and other successes with him so got confused and decided to give it a shot. OH well
.
PICTURE TIME!

Now up to 4 bat cards of Greenberg... around like 19 base.
Jones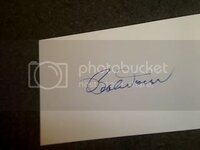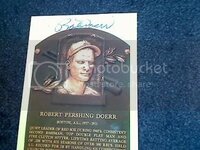 Not pictured is Sparky stuff (obviously)
Thanks for looking.
Last edited: