Joined

Aug 30, 2005
Messages

1,711
Location
Yesterday brought a major piece to my Astros auto collection: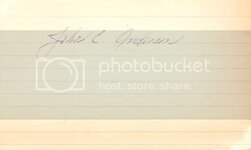 There are three reasons he is so tough:
1) He died in 1998.
2) He only played 10 games for the Colt .45s, so demand for his autographs was pretty low.
3) He has the same name as a country music singer, former governor, former hockey player, and a former football player. Do a search on eBay for "John Anderson auto*" and you'll see how many famous people share his name. So finding
his
uncommon autograph in the midst of all of those autographs is tough. This was only the second one I've ever seen.
Just thought I'd share a major addition.