Just got back from taking my nephew to Josh Hamilton Camp today at Rangers Ballpark. Fun day all around as the kids are on the field and in the inside cages. Josh worked with each group in the outfield and then gave a little speech and did some Q&A. I have heard the gist of the speech before; and even though I am not very religious, I do enjoy the humility Josh displays very much. He truly is a very humble man and I respect him very much. He was able to keep the kids captivated throughout the speech portion and was both serious and funny when the time was warranted. He did say that "hosing a runner at home" is far better than "hitting a bomb"...
Obviously with 150 campers, autos are pre-signed and each camper got this 8x10 and also a blue Rangers hat signed by Josh.They were mass signed by Josh this morning and not of excellent quality; but it is was it is.... Anyway, next week is Vernon Wells camp so hopefully that goes well too.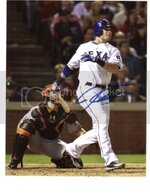 Could not really scan the hat, sorry
** So apparently since my sister-in-law works there, my nephew stayed after camp and was able to meet Josh in the tunnel and get this 16x20 or so signed in silver by Josh with a bible verse. I told him I would get this framed for him...also I just found out Vernon Wells camp got postponed til Feb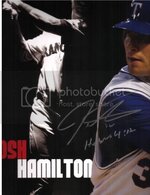 Thanks for reading!
Chris
Last edited: