As the title states, I received a Josh Hamilton signed 2008 Topps Allen & Ginter card for my set
I sent it out this past Aug.
Didn't expect any success, sort of forgot about it... can't complain though
.
Compared to last year...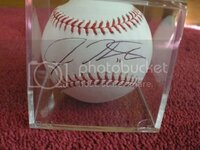 Not too bad.
Thanks for looking guys,
Hallelujah, the holidays are almost here, almost done school for 1.5-2 weeks...
--
Utleyfan