Joined

Oct 8, 2007
Messages

5,447
Location
Hi
Avoid dealing with these people
https://rainwanna.com/collections/baseball-hobby-box
!!
Prices seem unbelievably low! $49 for Hobby Box of 2020 Bowman Chrome? Sales for over $200 at my LCS!.
I didn't trust them at. So, when I went to pay, I had a paypal rep online when I made the payment.
On Saturday, I received an email, supposedly from paypal.
| | |
| --- | --- |
| Shipper | USPS |
| Tracking number | 9361289724009587031905 |
| Shipping status | Shipped |
The reason I believe it was not from Paypal, is that I have a confirmed address.
So, I cut and pasted the tracking number on USPS.com. And, this shows up.
Tracking Number: 9361289724009587031905​
Your item was delivered to the garage or an alternate location at the address at 5:02 pm on March 19, 2021 in RAMONA, CA 92065.
USPS Tracking Plus™ Available
Status​
Delivered​
March 19, 2021 at 5:02 pm
Delivered, Garage or Other Location at Address
RAMONA, CA 92065
OMG, the carrier left by the garage and someone took it? Nope, although I did look, just in case. I just had to wait until today!
As most of you know, I have been a clerk for the USPS for 41+ years. That being the case, I have access to the hotline numbers of all San Diego County post offices. So, since we moved to Ramona, I have theirs in my phone.
Called Kirsten, Ramona Carrier Supervisor, gave her the tracking number and on her computer she gets...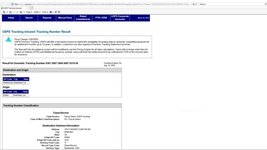 and
Dang it's the same tracking number, but it's not going to my house! So file a claim with paypal and hopefully will have my money back in a couple days.
LMK Bob
Last edited: