Front and back scans shown: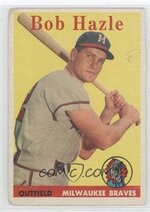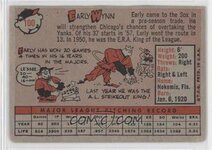 1958 Topps #100B - Bob Hazle (front)/Early Wynn (back)
I also have a similar card for 1958 Topps #69 Wally Burnette. Maybe it's #69B? Early Wynn is on the back of the card.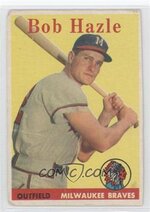 I also have several "Ad Backs" like the one shown.
I'm helping a friend sell part of his vintage collection online through COMC, I sent in around 200 cards and am stuck on a handful of oddball cards from the 1958 set. The site didn't provide much for extra details or BVs on these. I also didn't glean much info off my Beckett. Does anyone have an idea on these? Are they rare? There's an Early Wynn "YT" which books for $100, is this it? In that year there are multiple cards listed as "YT" or "YL". Any idea on these acronyms?
1958 Topps - Bob Hazle on the Front, Early Wynn #100 on the Back (Upside Down)
1958 Topps - Wally Burnette on the Front, Early Wynn #100 on the Back
I also have some cards which look like they may be old box-bottoms or - I have cards of Bob Hazle, Bob Martin, Frank Bolling and Ronnie Kline with Bazooka-Related Marketing information on the backs (see scans below). They are described as "Ad Back", but I can find no further information on these.
Thanks for your help in advance!
-Chad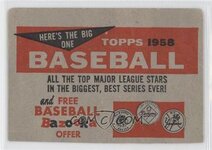 Courtesy of CheckOutMyCards.com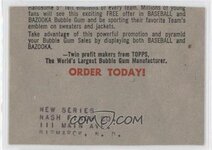 Courtesy of CheckOutMyCards.com
Last edited: