Found out that Keith would be appearing at a Lowe's grand opening in Brooklyn...So, I figured what the hell
Line was never crowded at all....
I got there at 8am was 6th in line...He was to arrive at 10am-12pm.
The normal announcement stating 1 item per person, blah, blah, blah...A few of us asked if we could get back in line once we got our 1 item signed, we were told yes.So after getting my mini helmet signed I get back in line, only to be told that I couldn't by security.
After speaking to a few people we were allowed to get back on line again to get another item signed.My guess is that's beacause there were not many people there
I got my 1987 Topps card signed after being in line 3 times....and was still finished by 11:10am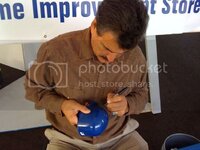 Mini Helmet now signed by Keith, Ray Knight & Wally Backman...you can see where I am now going with this project...lol
1987 Topps...one more closer to completing the Mets team set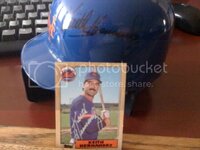 Last edited: