Hey Everyone -
One of my goals for 2016 is to totally declutter my house - especially my card collection! So what I've done is thrown a bunch of cards, memorabilia, and miscellanea that has been lying around into a flat rate box and hoping to find them a new home quickly and cheaply! This is great for someone who sells at Flea Markets or someone who will take the time to piece these out and resell or someone who just likes a new arrival of neat stuff!
Below is a detailed list of what's in the box along with the pictures. If you have any questions about any of it, let me know.
For the whole box (shipped in a Medium Priority Mail Flat Rate Box),
I am looking for $20.00 via Cash, Check, or MO. Or $20.95 via Paypal.
More than half of the cost is shipping itself.
Hopefully this can be moved quickly, and if so, I'll see if I can make another....
Thanks!!
Scobes
SINGLES
1984 Fun Foods Pins #26 Pedro Guerrero (LA) ($0.50)
1989 Topps Doubleheaders All-Stars 3 Wade Boggs (BOS) ($2)
1998 Donruss Preferred Tin Packs Double-Wide #6 Juan Gonzalez & McGwire (TEX/STL) ($2.50)
2002 Topps Pristine Refractors #54 Brian Jordan (055/149) (Uncirculated) (LA) ($5)
2002 Topps Pristine Refractors #89 Mark Prior (025/149) (Uncirculated) (CHC) ($8)
2002 Topps Pristine Refractors #127 Fred McGriff (004/149) (Uncirculated) (CHC) ($8)
2002 Topps Pristine Refractors #163 Greg Sain RC (0293/1999) (Uncirculated) (SD) ($3)
2002 Topps Pristine Refractors #194 Chris Snelling RC (366/799) (Uncirculated) (SEA) ($6)
2004 UD Etchings Game Bat Blue HB Hank Blalock (Bat) (TEX) ($8) (Minor Chipping on bottom)
SETS & LOTS
(20) 1980 Phillies Burger King Set + Header (Missing #6,7,11) (Not MINT) (Complete Set = $8)
(5) 1983 Donruss Action All-Stars (Not MINT)
(8) 1985 Donruss Action All-Stars
(35) 1986 Donruss All-Stars (Mostly MINT)
(40) 1987 Donruss All-Stars (Not MINT)
(26) 1987 Nasville Sounds Team Issue Complete Set (Minor Leagues - includes Norm Charlton, Rob Dibble, Jeff Montgomery, Chris Sabo, et al.)
(12) 1988 Fleer World Series Complete Set ($2)
(56) 1988 Score Great Moments in Baseball Minis Complete Set
(58) 1988 Score Great Moments in Baseball Minis Singles
(145) 1988 Topps Big Singles
(20) 1989 CMC Canseco Complete Set (In promo booklet) (Smells smokey)
(56) 1989 Score A Year to Remember Minis Complete Set
(50) 1989 Score A Year to Remember Minis Singles
(68) 1989 UD Mini Hologram Discs
(73) 1990 Score Magic Motion Trivia Minis (Unsorted - Maybe a complete set)
(41) 1991 Score World Series Trivia Minis Singles
(19) 1993 Topps Inaugural Marlins Incomplete Team Set of Philadelphia Phillies (19/30) (Common = $0.60)
(26) 1993 Topps Inaugural Rockies Incomplete Team Set of Philadelphia Phillies (26/30) (Common = $0.60)
(325) 1996 Ultra Baseball Commons (Common = $0.30)
(11) 2000 Impact Tattoos ($0.50 each)
(25) 2006 UD Future Stars World Future Stars Complete Set ($25)
(69) 2008 UD Documentary Philadelphia Phillies (Inlcudes Hamels, Howard, Rollins, etc) (Range from $0.50 to $1.25)
(95) 2010 UD World of Sports Commons (Lacrosse, Skiiing, Skating, Swimming, Soccer, etc) (Common = $0.40)
(12) Various Sportflics Mini Trivia Singles
MISCELLANEOUS
Boston Red Sox Bag of Fenway Park Dirt
Lake Elsinore Storm Decal Sticker
New Britain Rock Cats 2014 Scout Night Patch
New York Yankees Plastic Key Chain
Plastic 3 inch Baseball Player (1984)
TOledo Mudhens 2015 Gameday Program
Toronto Blue Jays Mini Batting Helmet (1997)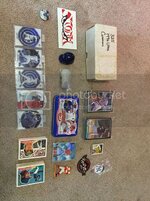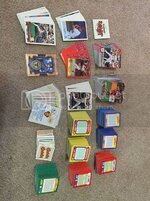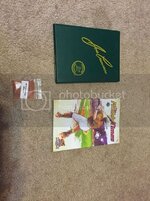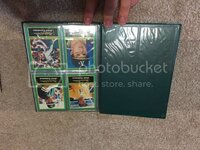 Last edited: