Hi everyone, it's been awhile since I posted a success here. I had a neat opportunity to attend a colloquium at the Cornell Club last week. NHL Commissioner Gary Bettman and MLB VP Rob Manfred spoke about Human Resource and Labor Relations practices in professional sports. Last spring, when I took Collective Bargaining/Industrial Relations Systems, I did some research on the baseball strike of 1994-95, which I hope to have published on seamheads.com in the near future.
I got to chat with VP Manfred about my research and my upcoming trip to Florida for Spring Training. He told me about how great the new facilities in Arizona are (I haven't seen them yet). After the Q&A session, I caught up with Commissioner Bettman and he signed the program from the event for me.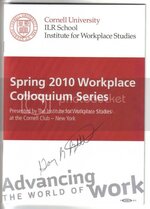 I didn't want to be too much of a pest, since the event was chaired by my current professor (I'm doing a Masters at Cornell's NYC campus), who's also my program faculty director! But the commissioner was nice and cordial. I joked to him, "I'm also a Jewish boy from Queens, and you're an inspiration to us all."
Thanks for looking!