Had a couple of trade pickups I wanted to share..The first was from Rich and I got this actually awhile ago but never got to post...
Wade Boggs
Then in a trade with my man, Levi i picked up one i really wanted...
Glenn Davis
I'll always remember the $25 tip Glenn gave me to take his rental car back when he played for Baltimore and had a lot of family in town to watch him play the Rangers...
Lastly, Mr. Javier sent me these 2
Dee Gordon
autos...one is a custom and the other is an 8 x 10...a great day!!
Thanks guys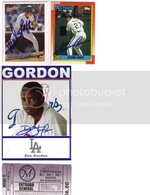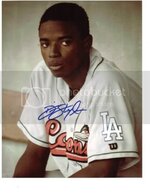 thanks for reading!!
CW