Joined

May 11, 2007
Messages

4,514
Location
The long wait.....
JP Parise 627 days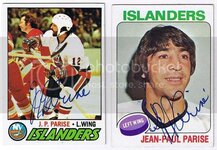 Now I will explain why I wish I did not have this IP.....
My son, 9, was recently hospitalized when his appendix ruptured. He is fine now and nearly back to 100%. He spent 11 days at the Hasbro Children's Hospital in Providence where they did an awesome job with him.
One afternoon Peter Cullen, who does the voice of Optimus Prime in just about everything Transformers you can think of (as well as some other voices like Eeyore), came to John's ward and stopped by his room. Like I said, he's 9, so Transformers are a big deal to him.
Mr. Cullen was kind enough to sign this postcard for us (it says: "To John, Roll Out. Peter Cullen").
I only say that I wish we didn't have it because of where we got it, but I am greatful to Mr. Cullen for taking the time to come to Hasbro and for whatever led him to John's room.
It's kind of hard to see (bad silver Sharpie) but it's still really cool.