Hello friends,
We are selling this item, a signed greeting from Pope Benedict XVI, which we received through a friend who worked at the Vatican for years. We have had this for about 8 years now, and you have your choice!
You can purchase the original card which in Latin says "with thanks and blessings" or I can customize for you.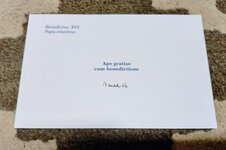 The card pictured in the second photo is not glued down, but an example of what this item would look like as a custom cut card.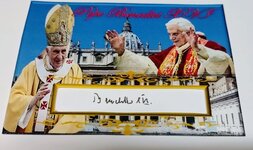 Asking $150 dlvd with insurance, thanks for looking and God bless!
Kevin