Hi Guys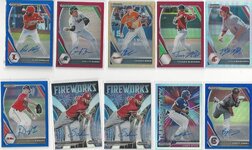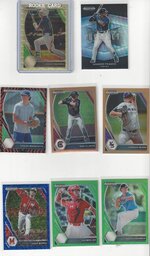 Autos
(2) Fireworks Prizms Silver Sam Bachman Angels
Thunderstruck Prizms Silver James Woods Nationals
Base Autos:
58 Doug Nikhazy Blue 18/99 Indians
63 Kyle Manzardo Silver Rays
86 Alex Binelas Blue 54/99 Brewers
141 Brett Kerry Blue 49/99 Angels
155 Tanner McDougal Red 43/50 White Sox
156 Tanner Bibee Neon Orange Indians
167 Collin Burns Red 20/50 Orioles
Will and try list the hits later today or tomorrow and we pulled a gold vinyl 1/1!Thanks Bob
Target has been hit and invoices will be out shortly! Thanks Bob
Have two hobby boxes of 2021 Prizm Draft containing ten autos
2021 Panini Prizm Draft Picks Baseball features top MLB prospects while utilizing a collegiate theme.
Within each Hobby box should be five autographs, five Silver Prizms and five inserts.
Hobby Configuration:
8 cards per pack, 5 packs per box, 16 boxes per case
2021 Panini Prizm Draft Picks Baseball Hobby Box Break Average
5 Autographs X 2
5 Silver Prizms X 2
5 Insert X 2
Plus the Prizm Draft Blaster Contains 5 Packs with 5 Cards, Plus 1 Bonus 6 card Pink Velocity Prizms.
Target price is $250 including shipping.
Target $250 Bids $243 Left to go $7
If you have any questions? Please ask!
Thanks Bob
| | | |
| --- | --- | --- |
| 2021 Prizm Draft | | |
| Arizona Diamondbacks | bdink25 | $10.00 |
| Colorado Rockies | LarryG | $10.00 |
| Los Angeles Dodgers | Sasquatch | $8.00 |
| San Diego Padres | Sasquatch | $8.00 |
| San Francisco Giants | crazyderik | $6.00 |
| | | |
| Chicago Cubs | crazyderik | $6.00 |
| Cincinnati Reds | PRosefan1 | $8.00 |
| Milwaukee Brewers | Horfin | $5.00 |
| Pittsburgh Pirates | Butch's buddy | $13.00 |
| St. Louis Cardinals | Jerryjtj | $12.00 |
| | | |
| Atlanta Braves | dan5 | $12.00 |
| Miami Marlins | dan5 | $6.00 |
| New York Mets | Butch's buddy | $7.00 |
| Philadelphia Phillies | LarryG | $8.00 |
| Washington Nationals | LarryG | $6.00 |
| | | |
| Houston Astros | Horfin | $5.00 |
| Los Angeles Angels | crazyderik | $6.00 |
| Oakland Athletics | dan5 | $5.00 |
| Seattle Mariners | Bearpup | $12.00 |
| Texas Rangers | PRosefan1 | $8.00 |
| | | |
| Chicago White Sox | Butch's buddy | $7.00 |
| Cleveland Indians | dad3309 | $8.00 |
| Detroit Tigers | crazyderik | $6.00 |
| Kansas City Royals | bdink25 | $15.00 |
| Minnesota Twins | LeonofNJ | $5.00 |
| | | |
| Baltimore Orioles | LarryG | $6.00 |
| Boston Red Sox | bdink25 | $17.00 |
| New York Yankees | Horfin | $11.00 |
| Tampa Bay Rays | LarryG | $8.00 |
| Toronto Blue Jays | crazyderik | $6.00 |
| Bids | | $250.00 |
| Target $250 | To Go | $0.00 |
Last edited: