I decided to try and sell some cards on Checkout My Cards. My cards were loaded yesterday, but I had a question about two of the cards I sent in. They are what I have always called UD Heroes Black /399 and look like: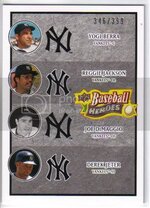 They listed the cards as Charcoals. I e-mailed them about it and they said Beckett lists the /399 cards as Charcoals and the Blacks as no serial number. Sure enough, I checked Beckett online and that's what they have. My June 2009 issue of Beckett lists the opposite - Charcoal is retail and un-numbered and Blacks are /399.
Any idea what is going one and which is correct?
Sue