My nephews attended Mike Maddux pitching camp yesterday and damn was it muggy. Anyway, they both had a blast throwing out of both bullpens and working on pitchers' fielding out in the outfield. Maddux and Hawkins were extremely tired(the Fri game ended at almost 1am and this camp started at 9) and since you technically are not supposed to get auto's after, I did not really want to try(my nephew got a card signed). However, as I was helping my sister-in-law move boxes from the field to the underground(she works for Rangers) I decided if someone big happened to be walking around I would go for it...Maddux and Hawkins were not enough to get scolded for
Lo and behold as she was away and I was standing outside the clubhouse, I had a most fortuitous IP...
It was worth not getting much of Maddux or Hawkins..
Mike Maddux
1 card(for Arron) 2 sig cards
Andy Hawkins
3 sig cards(1 for Arron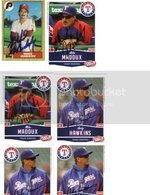 Cliff Lee OMLB with "CY 08"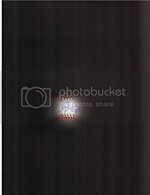 Thanks for reading!!
CW