From time to time, I get random people that contact me about Mark Brunell cards they have. Most times I have what they are offering. In the rare occasions that I actually need/want the card, it's usually offered to me at "out of their minds" requests such as "need an Adrian Peterson SPA Gold Auto/Patch," "PSA or BGS Gem Mint Graded Joe Montana RC" or "looking for a HDTV"! Once all those disappointing and greedy inquiries are done with, I do get a legit sane person every blue moon. This story is one of them!
A guy from Minnesota emailed me about a "1998 Collector's Edge Odyssey Single Edge #1/1 card." He said it was from a wax box that he bought from the now defunct Shinders chain back in 1999-2000. I was ecstatic because I already own two of the three Mark Brunell #1/1s from this set. As always in my correspondence, I ask for front and back scans/pictures of the offered card.
Here's the scan: 1998 Collector's Edge Single Edge Quarter 1 of 3 #64 (#1/1)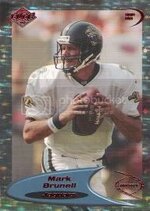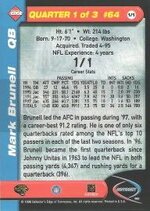 I noted to myself, "That's not the Single Edge Quarter 3 of 3 I need!?! Don't I have that already?!?" Immediately, I made a special trip to the offsite bunker and searched thru the boxes and boxes of cards I had. Voila...I DO have that card.
Regardless, after informing him that the card wasn't a true #1/1, we still discussed a trade and came to an agreement. But like most who contact me, he hadn't collected for years and had never sent any cards in the mail before. With my history of bad luck with poor packaging by sellers and traders, I sent him his cards (Main card was an Adirian Peterson, LaDainian Tomlinson and Terrell Owens Triple Threads Jersey #/9) and a care package that included a prepaid return bubble mailer to me along all the supplies with step by step packing instructions. Within a week, the trade was completed...wow a smooth problem free transaction!!! A rarity!!!
Here are the two IDENTICAL #1/1 cards together.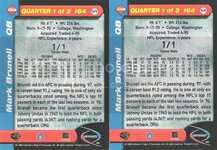 It is the 1st Collector's Edge double #1/1 I've encountered (not counting printing plate many of which I have multiples plates of the same color). Over the past years, I've seen various Single Edge "proofs", that is cards in various stages of completeness, but none that are 100% complete.
Although you are seeing double #1/1s of the same card, it's not the 1st of it's kind in my collection. Previously, in 2006 I completed these double/triple #1/1 sets: See Cardboard Story #8
http://www.freewebs.com/markbrunell/archiv...oardstories.htm
Both from 1998 Score Showcase One of One (#1/1) #PP46 and #PP144!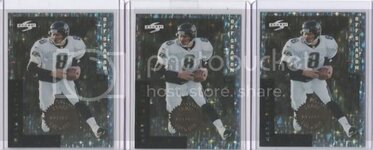 Thanks for stopping by and reading my story! Much appreciated!