Nothing big...picked up a couple of things for my OJ collection...lol...and yes I have an OJ collection...I've been working on the autos of all the key players from the OJ Murder Trial for years...it's not something i usually go after but I pick up one every now and then as I come across them...I'm probably 75% or so I'd guess.
This time brought the house guest lol...he's sort of elusive and i can't find a TTM addy for him that works so picked this one up: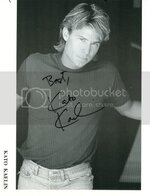 Then...Topps Vault had this OJ 1979 Film positive up for auction...I put a bid of $15 in just for the heck of it because I have no idea what this sort of thing goes for but $15 sounded like a steal to me...so I thought if I get it for that then more power to me...lol....got it for $12.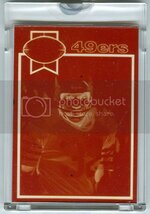 Lastly...I have a soft spot in my heart for the 08 Spectrum of Stars set...I guess because the Rooney auto drove me nuts and I was actually able to complete the set (as far as I know anyway because Beckett and UD are jerks and won't give anyone a straight answer on what cards were actually released for the set)...anyway I always try to pick up the print plates whenever I can from this set...they show up on ebay from time to time and its usually some moron wanting $80 or $300 or even $1500 for one...which is stupid...I think the most I've paid so far for the 10 or so I have is $20 and that's my high mark on any of them...got this one for $10.