Joined

Oct 8, 2002
Messages

7,851
Reaction score

0
Points

36
Location
Topps Platinum - NFL​
24 packs - 5 cards per pack
'1 Chrome Autographed Patch Card in every box'
'2 Chrome Rookie Autographs per box'
At this writing, there is no info on
www.topps.com
I received the following:
65 unique 'non-chrome' base cards and 1 duplicate
Topps Platinum base has a glossy, silver finish and a bright white reverse. The reverse has personal and professional stats along with a synopsis of the players' strengths and some of his pro honors.
34 unique Chrome cards and 7 duplicates!!!!
I find it unique to this set, the chrome numbers pick up where the base silver foil stop. The set will consist of both chrome and non-chrome cards -- why hasn't this happened before? (Or have I just missed it?)
Inserts

Extra thick inserts - and each is numbered to 1549. This insert is very, very good looking!! Plus, it is not a parallel set - Per Se... yes, there are other cards of the players, but the photos are different - maybe not all, but the ones I received are different. Very good!!
This one is numbered to just 99. There is no specific designation such as refractor on the card that I could find.
****
Note to anyone selling packs of Platinum - there are 6 packs in the box with the extra thick card - one of them is the patch card. Don't let buyers play with the packs before purchasing! It makes the odds of getting the patch card 1 in 6 - not bad odds.
Refractors
#ed to 999
R. Maualuga
M. Massaquoi
Laurinaitis

Blue Refractors #ed to 99
M. Wallace
D. Brown
Autographs

Ramses Barden
Malcolm Jenkins
Both #ed to 850
Autographed Rookie Patch Card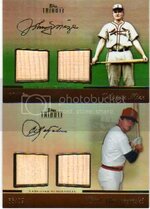 Josh Freeman
#ed to 10
*****************************
This patch card is one of the sweetest looking cards I have ever seen. The patch is fantastic!! I also thought it was pretty cool that the player is a Tampa Bay Buc (even though they are the poster kids for futility in football!!)
I was a bit disappointed that there were 7 duplicates in the chrome cards. If I had several boxes, I would expect to have dupes - but not in one box.
The extra thick cards are my favorite in this issue - really good looking.
Overall grade
A
- waaaay too many dupes in the chromes, but what a sweet patch card!!
Go buy several boxes and send the Crabtree's to me!!
Duane