6 packs per box - 3 cards per pack
3 on card autos and 3 memorabilia cards per box
I received these: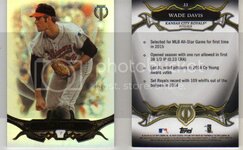 10 unique base cards - making an assumption that the base set is 100 - 10% of the base set.
Tribute is a super premium issue. The cards are very thick and have a mirror/refractor finish on the front of the card. The player is the focus of the card - not the graphics or logos or design enhancements.
Tribute is a mixture of both vets and current stars/rookies. As a personal preference, I would prefer a larger set with more current players and a limited number of retired/former players... maybe it's just me.
I believe this issue is an excellent issue for the player collector - not so much for the set builder. The auto collectors out there should be relatively pleased with the offering as well.
Inserts/Parallels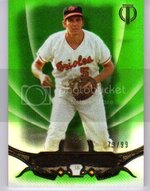 2 green refractors - #ed to 99
Brooks Robinson
Trevor Rosenthal
Relics/Memorabilia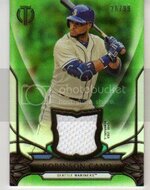 Robinson Cano #ed to 99 - green refractor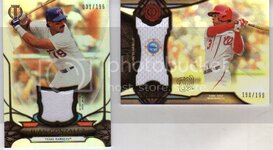 Juan Gonzalez #ed to 199
Michael Taylor #ed to 199 - Stamp of Approval
Autos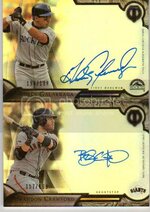 Brandon Crawford #ed to 199
Andres Galarraga #ed to 199
Adrian Gonzalez #ed to 25
******************
I like Tribute. I believe that one receives a good number of autos and relics in one box. I would like to see a few more base cards included in a box - just for the set builders such as myself.
I also like the on card autos - well done. If there could be an improvement there, I would have current players as the regular autos and vets/retired players as inserts or 'extra' hits in a box.
Overall grade
A
Go buy several boxes and send the cellar dwelling Rays to me - base and refractors.
Duane