I have had this in my collection for a little while now, and it really doesn't fit in with what the themes of my collection are. That is the only reason I am trading this.
The card is pictured below.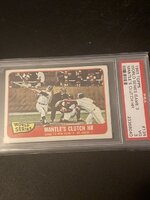 Untitled
by
Dashcol's Cards
, on Flickr
I am only looking for vintage help for my sets found here:
PLEASE NO ONE POST IN THIS THREAD!!!! USING AS TRACKING FOR WHAT I NEED AND AS A SHORTCUT FOR THOSE TO REFERENCE. I will not respond to those who post in this thread, as I will only be checking it when I have an update to a set need. If you happen to have something I need, please just PM me and...
thebenchtrading.com
Or BIG hits off of my 2021 Heritage set needs found here:
I have decided to take on the massive undertaking of building a Master Set of 2021 Heritage. I don't want to just have a Master Set, I want to have the most complete set of 2021 Heritage! I have no idea why I decided to do it with this set, but I have made up my mind, so I will now spen the next...
thebenchtrading.com
Or HOF rookies graded by PSA/SGC or maybe BGS/BVG.
If all that fails, I also would be slightly interested in parallels of current rookies, but that would be last on my list.