2 mini boxes - 7 cards per mini box
Each mini box contains an auto'd relic and a relic card, one of which is a triple relic.
I pulled the following:
6 base cards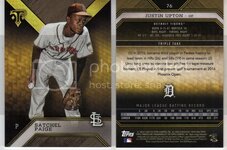 J. Upton, Satchel Paige, M. Kemp, Carl Yastrzemski, Stan Musial, J. Fernandez
Triple Threads is a premium issue. Cards are thick, the front is high gloss with gold reflective design. The reverse is matte finish with player stats, both personal and pro career stats along with 'Triple Take.'
Triple Threads, being a premium issue, is a bit pricey. Here in O'do master boxes are about $180 +/- - making each card - before one knows what one is getting $12.85 each... Now, if one is buying to resell, i.e. for that big hit, you might have to buy several boxes to accomplish that goal. For the set builder, this might be a heck of a mountain to climb. The player collector will have an absolute ton of color variations, autos with jerseys/bats/triple jsys-bats, combo cards, leather, wood, white whales, -- the back of the mini box has 2" of mice type with the different possibilities and the odds for each. Having said all of that, it would be a fun challenge to attack the list to see how far one could get of a particular player (as long as the funds last!!)
Parallels
Purple, Green, Gold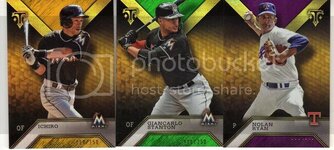 Purple #ed to 340 - Nolan Ryan and Nolan Arenado
Green #ed to 250 - Giancarlo Stanton
Gold #ed to 150 - Ichiro
Jumbo Relic / Triple Relic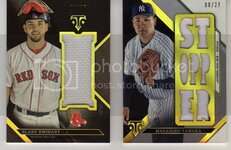 Jumbo Relic - #ed to 36 Blake Swihart
Triple Relic - #ed to 27 Masahiro Tanaka
Auto'd Jumbo relic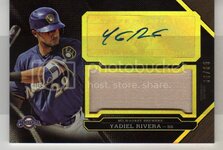 #ed to 68 - Yadiel Rivera
Wood Triple Relic 1/1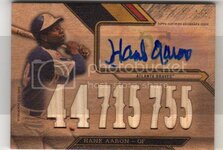 Hammering Hank Aaron
Extremely cool card!!
Triple Threads - as a premium issue with a premium price tag - should have on card autos. I understand some of the logistics - getting the cards printed in time, getting the rep together with the individual player and their schedules.... it can be done with Bowman Chrome - why not with Triple Threads?
Overall grade
B
Go buy several master boxes and send the Rays parallels, autos, and inserts to me!
Duane