I went down to FT. Myers today to catch the last Twins workout before games start and came away with these.
Cards of the following.
Brian Duensing 2/2
Mtt Tolbert 2/2
Michael Cuddyer 2/2
Joe Nathan
Kevin Slowey
Drew Butera
Scott Baker
Anthony Swarzak
Brendan Harris
Jerry White
Richard Anderson
Tom Kelly
Tony Oliva

Delmon Young(already had Navarro from last year)Wish he would have signed it like Navarro.
Justin Morneau 8X10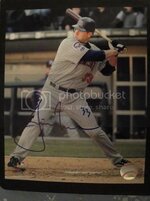 Joe Mauer 8X10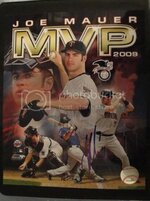 Harmon Killebrew and Jim Thome Sweet Spot Balls