Joined

Dec 29, 2005
Messages

6,234
Reaction score

0
Points

0
Location
I'll start this story at the beginning. In June 2009 I redeemed three 2009 SP Legendary Cuts "Mystery Cuts" redemption cards online through the Upper Deck website. I figured 4-6 months before I would receive anything. By December 2009 I still hadn't heard anything so I e-mailed them for an update. They responded by saying that because of the "high value" (BV $350) of the cards, it would be awhile before the cards were produced. They asked if I would be interested in receiving replacements for the "Mystery Cuts" and if so, to send them the sport and a list of the players I would consider. I accepted the "replacement" offer and sent them a list of about 25 different players. Was then told it would be 4-6 weeks to get the "replacements".
When I still had not received anything by April, I again wrote and asked how much longer it would be before I received the cards. They wrote back saying that they appreciated my patience in the delay but -- no time frame was given.
At that point I just figured that I would never see any of the cards because of the problems at Upper Deck. Then, in today's mail I get 3 packages that I wasn't expecting. I thought that I had finally gotten my "Mystery Cuts" cards. I carefully open the first package and it definitely wasn't a "Mystery Cut". Then I read the enclosed letter:
"Dear Valued Customer,

Enclosed you will find a complimentary trading card from Upper Deck. This Trading card is being sent as a gesture of good will, rewarding you for your patience with our Mystery Cut redemption. Please note this card is not a replacement for your Mystery Cut. We are working on completing the Mystery Cut redemptions as soon as possible. Once the remaining cards have been authenticated and produced, you will receive your random Mystery Cut. We would like to thank you for your continued support and hope that you enjoy this complimentary keepsake in the mean time.

Sincerely

The Upper Deck Company"
I think it was a nice gesture on their part -- BUT -- I want my "Mystery Cuts". I have scanned the 3 cards I received below. All are for trade if anybody wants them.
Thanks for the long read and PLMK what you guys think.
Gene
Carlos Lee - 2009 Ultimate Collection Ultimate Patch (06/35) BV $60
Chris Young - 2009 Ultimate Collection Ultimate Patch (27/35) BV $60

Nicky Delmonico - 2009 Upper Deck Signature Stars USA By the Letter Autograph (067/100) BV - $10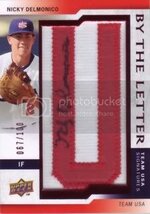 Last edited: