I buy all sorts of cards on ebay, but want to start selling some of my stuff. I have a few questions before I get started and I would really like your help:
1) Will my sale prices be substantially affected due to no seller rating/feedback?
*note that I do have a 100% buyer rating with like 100 transactions, but I'm not sure if this matters
2) With some of my high end stuff, when is it best to put a buy it now price on vs. let it ride with a minimum bid?
3) Any idea what this card might command on the bay?: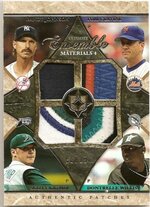 4) Any other advice, info to know before selling on ebay would be greatly appreciated
Thanks in advance for your help and thoughts