I recently passed the 1,000 mark for the collection, completing my major collecting goal for the year. Thru this week I am up to 1,004 leaving me with exactly 300 more cards on the want list.
Some recent O'Neill mail....
1996 Studio Silver Press Proofs /100
(#999)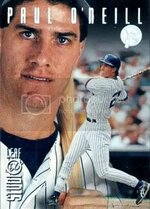 2005 Absolute Memoribilia Team Quads Spectrum /100
(#1,000)
Thanks to Kevin ( KevinNYYLundqvistFan) for working out a deal for these card over on the trading forums.
2004 Topps Originals Autographs 1990 #/18
(#1,001)
1995 Pinnacle Artist's Proof
(#1,002)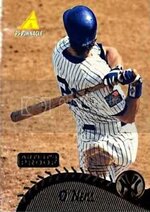 2001 Upper Deck Gold Glove Leather Bound
(#1,003)
A great present from my MT Secret Santa, my #1 wanted GU card. Thanks again Mr. Claus!
and #1,004, the white whale....
2005 Topps All-Time Fan Favorites Autographs Rainbow PO #ed/10
I can't believe this card FINALLY popped up, I have been waiting 5 years just to see what one even looks like. Hit the BIN almost immediately, paid a tad more than I would have liked but I knew how high others were willing to go. I could probably list it right now for triple what I paid and probably have a buyer. I have always been a big fan of the ATFF sets and I can't express how stoked I am to land this.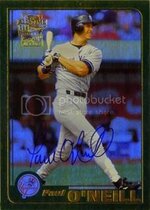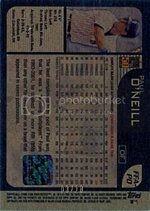 Updated collection stats:
Currently at 77%, my goal for 2011 is to reach 80%, which is in the vicinity of 1045 cards.