Joined

Apr 8, 2008
Messages

1,853
Reaction score

0
Points

0
Location
So I've done IP autos for several years now, but just recently started trying my hand at TTM. I picked Mr. Archie Manning for my first attempt since I really wanted him for my PC. First I sent him 1 card using the address in the database. I did a card first because (1) I wanted to make sure the address was good and (2) it was my first ttm and I wanted to do a test run to make sure i did everything correctly... I got the card back signed in just 10 days, so i decided that i would give it a shot. I sent Archie my September, 1970 edition of Sports Illustrated which he is on the cover of with Ole Miss, and I received it back autographed in blue sharpie today. It just took 9 days!!!! Looks great, and I've scanned a pic of it to put in my bucket so i could link it here, but my bucket is acting screwy and won't upload it correctly. I tried scanning it again on a lower quality (so it would be a smaller file) and it still wouldn't upload. Never had this problem before, but I will try again sometime this weekend to get a pic, but I was too excited to wait and post.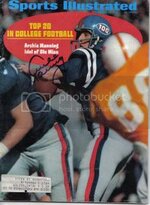 After the success I kind of got addicted to TTM (especially since I've gotten rid of most of my trade bait, and trading has been slow of late). I mailed out cards to these guys today, got all the addresses from the TTM database, and tried to pick guys I would want for my PC but also had good success rates for signing TTM, hopefully I will get some back soon.
Stan Musial (sent card, but expect the postcard)
Duke Snider
Bobby Doerr
Whitey Herzog
Mike Mussina
Fred McGriff
Roberto Alomar
thanks for the read!
Nate
Last edited: