Joined

Oct 8, 2002
Messages

7,851
Reaction score

0
Points

36
Location
6 packs per box and 5 cards per pack
'Look for Autograph Cards of Top Prospects and Topps Exclusive WBC Game-Worn Jersey Relic Cards in Every Pack!'
I received the following:
3 Bowman Sterling Rookies
J. Chacin
E. Young
G. Golson
3 Prospects
A. Buchholz
W. Rosario
B. Bailey
This premium issue is beautiful! For those of us who have been collecting for many years, these cards are terrific! The background design does not overpower the picture of the player. The cards are very stiff and some even have a little curl to them. The reverse has stats plus a Bowman Reflection portion of the card. However, there are no numbers on the cards - only initials of the set - BS/BSP and the player's initials. For those of us who chase sets, it would be great if we had card numbers....
INSERTS
Refractors
Prospects
#ed to 199
J. Owings
P. Paramore
Rookies
#ed to 199
J. Mayberry
T. Crowe

These are clearly marked 'Refractor' on the reverse.
Black and Gold Parallel Refractors
Gold
#ed to 50
G. Parra
Black
#ed to 25
C. Angelini
Game Used - WBC
N. Weglarz
H. Robb
H. Ryu
H. Chen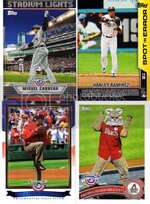 Game Used WBC - Refractors
#ed to 199
Ichiro
Shin-Soo Choo
Box Topper
Blue Game Used WBC - Refractor
#ed to 125
Kwang-Hyun Kim

Prospect Autos
R. Grossman
A. White
R. Fuentes
M. Trout
C. James
C. Heisey
T. Wheeler
C. Jenkins

Rookie Autos
N. Reimold
A. Bastardo
Dual Refractor Auto
Redemption
B. Posey
F. Cervelli

Gold Refractor Auto
#ed to 50
Chad Jenkins

%%%%%%%%%%%%%%%%%%%%%%%%%%%%%%%
WOW !! 2 autos and 1 game used per pack!! Excellent!!
What a great issue for the rookie and prospect collector. Numbered parallels, autos, what more could someone want from a card product? Maybe more packs per box.... Could prove to be a little bit of a work in progress to collect the set w/o card numbers.
Autos look very good even though they are sticker autos. Each one looks to be well placed on the card.
The refractors are both easy to distinguish and easy to find the word 'refractor' on the reverse.
Overall Grade
A++
Excellent!
Go buy several boxes and send the Rays all to me!!
Duane