I hated to do it, but with all of the talk about UD losing the baseball license and that redemptions are now in question, I figured that these will never get signed and I should at least get something in return. So, I finally asked for replacement autos for my Griffey & Victor Martinez 08 Masterpieces Stroke of Genius autos. The only two that I needed for my 08 Stroke of Genius set.
I'd been waiting for the Griffey for 1 1/2 years and the Martinez for almost a year. My set is complete without them because they weren't produced, but it would have been great to have them. Here's what they would have looked like: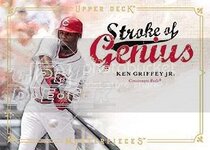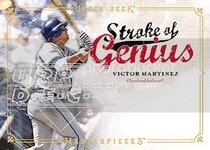 When I asked what I would get in return he told me that he would put Griffey, Ripken, Ryan and possibly Jeter down for the Griffey. He said I probably wouldn't get a Jeter but I'd rather get a Jeter so I can get something nice for what I paid for the Griffey ($150). UD has flooded the market with Griffey stuff, so I'm hoping for a Nolan Ryan. He said I'd probably get a Youkilis for the Martinez.
Again, I hated to do it, but it's been a year and a half on the Griffey & almost a year for the Martinez, so I don't think they would have ever gotten signed.
Would you have done the same thing?
John