Mark Bavaro
along with Phil McConkey...They appeared at Freehold Mall @ Pro Image this past Saturday. Bavaro auto ticket was $59.00 and you got McConkey for free
I had met Bavaro once before at NY Jet training camp when he was helping Bill Parcells in his first year as head coach.When Bavaro retired I had painted a banner in hopes of getting the Giants to retire his number, he joked with me asking if I wanted him to retire.Fast forward to this past Saturday, I showed him the banner and he told me he remembered the banner and then thanked me for my efforts in trying to get his number retired. He also said he was proud of Kevin Boss wearing his number.
Here are the 2 cards I got signed in hopes of completing my 87 Topps Giants set...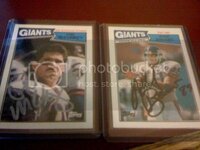 Now, I have Zeke Mowatt, Raul Allegre, Sean Landeta, Brad Benson, Leonard Marshall, Harry Carson, Lawrence Taylor, Pepper Johnson, Phil McConkey and Mark Bavaro
Here is a picture of the 3 of us...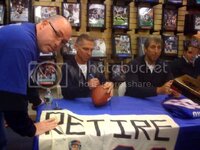 And now the banner which is signed by Bart Oates, Phil Simms, Carl Banks, Gary Reasons, OJ Anderson, Eric Dorsey, Mike Fox, Matt Bahr, John Washington, Phil McConkey, Mark Bavaro, former GM George Young and Ed McCaffrey