I posted a thread a little while back when i got a preview box from tricity the card was not the best and i was thinking of investing in to the company as the 4th co-owner for about 3 months now! I been doing good at work with record profits for the summer which made me think and i went for it! Dont ask me how much i invested or how much the production actual cost of the set is because i wont tell you! We will just say the biggest card in the set cost over 3k to make and it hasent been annocued on the website as of yet! Hint it will be 1 of the biggest booklet cards in the history of cut auto cards!
Some of the promo designs where good and other where bad this design got the best review from people who got promo boxes!
I am asking for a honest opnions on this design and placing of this cut!
PLEASE VOTE ON THE POLL!
(this will be the base cut design for the product)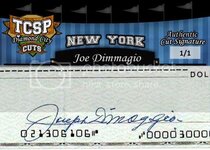 Tri City Sports PL Copyright ©
Also we have done work on the checklist on the site! Which can be found below!
http://tricitysportspl.webs.com/checklistforproducts.htm